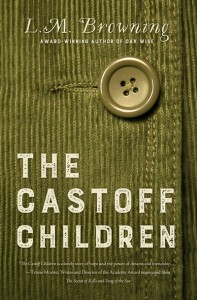 In her latest novel, award-winning author L.M. Browning takes us to 19th century Boston in her dickensesque tale, The Castoff Children.
The year is 1850. The Revolutionary War has long since come to an end and the industrial revolution is beginning to build steam, overturning the old ways of home and hearth as it gains momentum. In a desperate hour, in the back alleys of Boston, a group of twelve castoff children come together to care for each other. Plagued by the unanswered questions surrounding their past and grief for loved ones lost, the children attempt to come to terms with the bitter truths that have defined their life thus far. Feeling forsaken, faced with prejudice, hostile gangs and in the hardest winter on record, the children find themselves on the ragged edge. Until a series of mysterious events begin taking place, making them feel that they are not as alone and helpless as they might have thought.
Separated from his friends during a week of successive blizzards, Joseph—the fourteen-year-old boy at the head of this family of outcasts—becomes snowbound in a condemned building while searching for one missing among their number. It is during his days beset in the basement of this building that Joseph—starved and feverish—experiences a vision of another life lived upon a rolling green land, spurring him to do something he has not done in a long time: believe that life can be more than mere survival. These surreal events culminating in the arrival of a good-hearted stranger who, while wounded himself by injustice and loss, brings renewed hope to these children who have dreamed of being loved.
 Advance Praise
"The Castoff Children is a lovely story of hope and the power of dreams and friendship…."
—Tomm Moore, Writer and Director of the Academy Award nominated films The Secret of Kells and Song of the Sea
"In her book, The Castoff Children, L.M. Browning has caught a poignant time in the 1800's in New England when hardship and hard work were the common lot of many people and when children were abandoned to fend for themselves due to poverty and the inability of parents to care for them. Her characters are engaging, and her story tells of courage, of vision, of compassion and loyalty. This book will inspire many a reader to value what is lasting and dear in a life lived with enduring values." 
—Gunilla Norris, award-winning authors of Simple Ways, Becoming Bread, and Sheltered in the Heart
"Browning takes us into a Dickensian world of children whose blood bond with family has been broken by the cruel circumstances of late 19th century life. They are left to scrounge the alleyways of Boston in search of simple human warmth as much as food and shelter. The resourceful band of eleven waifs finds the help they need in a man who has lost his own family. But their journey for survival has just begun, and it leads them to a place far off from where they began. The Castoff Children  is a timely reminder of all those who have been abandoned early in life, in today's world as well as in the past."  
—George Harrar, author of Reunion at Red Paint Bay
"As hope becomes a trickster in this classic tale of the human spirit refusing to be vanquished by desperate circumstances, the author skillfully carries her readers along on the wild and heart-warming ride."
—Gail Collins-Ranadive, author of Nature's Calling
Look for The Castoff Children in paperback and ebook
wherever books are sold on October 25, 2016 from Homebound Publications.
Pre-order your signed copy exclusively in the Homebound Publications Bookstore,
Pre-order is also available on Amazon.com