6 Questions with award-winning author and Homebound Publications Founder L.M. Browning
Photo of author hiking Walden Pond, June 2015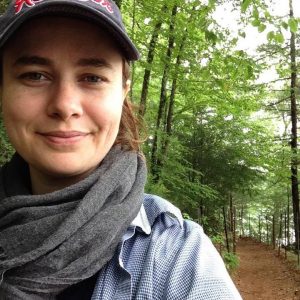 1. What books are on your nightstand?
Artic Dreams by Barry Lopez, Winter Count by Barry Lopez, Light Action in the Caribbean by Barry Lopez (are we seeing a trend)? [Laughs]. Pilgrim at Tinker Creek by Annie Dillard, Braiding Sweetgrass by Robin Wall Kimmerer, Seasons of America's Past by Eric Sloane, The Whole Beast by Fergus Henderson and a few poetry collections that are permanent fixtures. Rilke's collected works among them.
I read a great deal in my positions at Homebound Publications, Hiraeth Press, Owl House Books, not to mention my own work, school, and helming The Wayfarer. It's hard to find time to simply read for pleasure. I've made a promise to myself, in the interest of my well-being, to read three books this summer purely for pleasure.
2. What book are you an evangelist for—what book do you feel that everyone needs to read?

After reading the above, I am sure it won't come as a surprise when I say it is a Barry Lopez book. Though, it is actually one of his lesser-known works Crossing Open Ground. It was the first title of his that I'd read. I have since gone back and re-read it 3-4 times in the last 8 months. Each time I finish it, I am left in awe of his knowledge and use of imagery. After I finished Crossing Open Ground the first time, I wanted to gather up everything that I'd written, destroy it, and start over again. He is that good; he makes even the most seasoned of writers feel like a beginner.
3. If you could sit down with one author living or dead who would it be and why?
The answer to this question evolves as I get older. A couple years ago I probably would have said Rainer Rilke. At this point, I think I'd like to reconvene the Saturday Club in Boston for one last meal.
I'm in Boston quite often for school and work. Whenever possible I stay at the Parker Hotel. Many people are unaware of the literary history of the place. During his tour of the United States, Charles Dickens called the Parker his home. The hotel was also home to the Saturday Club, which met on the third Saturday of every month. The circle included luminaries such as Henry Wadsworth Longfellow, Ralph Waldo Emerson, Oliver Wendell Holmes, and a few others.
Or perhaps drop into Concord circa 1837-1860 and sit down with Emerson, Hawthorne, Fuller, Alcott and Thoreau.
4. Tell us a little about your own creative process. 

Honestly, my process depends on what I am writing: poetry or prose.
I don't know any poet who sits down at a desk and churns out final copy. (Well, I actually do know poets who write that way but I don't think they are producing the best work they could). I think poetry is inherently more fleeting, dependent on inspiration—a lightning strike—rather than a formal daily endeavor. For me at least, unlike prose, poetry cannot be forced. When I try to force poetry, I find I am writing solely with my brain, excluding the soul/heart, and as a result the verse isn't as moving.
My poems seem to build silently within me over months and years and then come forward when they are ready. I write poetry in bursts. I'll write a handful of poems over the course of a few days and then stop and let it build again.
Writers are known for their eccentricities when it comes to their writing routine. My way of working isn't all that peculiar. I am a night owl. I usually do most of my writing between 11 p.m. and 3 a.m.. I find it easier to write when I can clear my mind of distractions and put the day's work behind me. Night is a kind of sensory deprivation. I find it is easier to be creative at night—hidden in some dimly lit corner scratching away.
Emotions and thoughts gather in my mind, eventually translating into a final piece. I am a firm believer in carrying a journal (personally, I carry a moleskin). For years, I jotted down thoughts on little bits of paper as they would come to me now, thankfully, I have disciplined myself to collect my ramblings in a journal.
Writing prose is a whole other animal. Personally, poetry comes easily to me. I have written novels but I find I have to chain myself to my desk and force myself to write prose, whereas poetry just flows naturally. For me, poetry is more emotion-based than prose is. In prose, emotion is woven throughout the framework of the story but in poetry, the emotion stands alone as the complete work.
I've actually moved into creative nonfiction and I think I've found my home. The manuscript I am working on now, Wild Silence, has me very excited. Every author endeavors to find their "authentic voice". In this latest work, I feel I've finally found mine. Everything else I've written up until this book feels like an exercise in self-discovery; whereas this manuscript is my emergence into my own literary identity. The themes I touch on are those strongest threads running through my identity: nature, contemplation, curiosity, travel, art.
5. What do you do for fun?
Sleep? [Laughs] No. Well, running the presses, attending school, and trying to write doesn't leave me with much time. For the last 7 years, I've averaged around a 100 hour work week.
In January, I burned out (this is not surprising given my pace) but I also suffered several health setbacks and had to undergo numerous surgeries over the course of 2 years. All that took a toll.
After all that—after the burnout—I had to make a conscious choice to put my well-being before other considerations. Since that point, I've made an effort to escape for day hikes to regional conservation areas once every two weeks.
Like so many authors before me, I enjoy pub culture. Yes, the libations, but more so the conversation and music. I often hide in cafes and pubs when I'm in the city. One of my brightest passions is food. I love eating it, cooking it, growing it, reading about it, talking about it. If I wasn't a publisher, I would want to open a gastropub. In my early 20s, while I was working to get my first book published, I made my living as a baker. After I left the bakery, I taught for a while and worked at Hiraeth Press. I then came to a crossroads of sorts. I was offered the chance to run the back of house [the kitchen] at a well-respected pub in town and I had to decide whether to take that position or go full-tilt into publishing. While I chose to leave food as a passion rather than a profession, it is still a huge part of my life. I am a strong advocate of adventurous eating, nose to tail eating, as well as the slow food movement and the farm to table movement.
6. What are you working on now?
I'm one of those writers who always has a few things going. As I mentioned, I am working to complete Wild Silence. A few abridged pieces from that manuscript will appear in the upcoming second edition of Fleeting Moments of Fierce Clarity: Journal of a New England Poet due out sometime this autumn. My next novel, The Castoff Children, is coming out in autumn of 2016 so I am gearing up for that. That manuscript took me ten years to write so it is quite a full-circle moment.
Visit L.M. Browning's Homepage at www.lmbrowning.com
Order signed editions of her titles at in her website's bookstore.