This morning Homebound Publications released an announcement about their forthcoming spring titles. Among their offerings are two chapbooks I've been working on. Read the full announcement below:
~
Spring at Homebound Publications will come in the form of two new offerings from our press' Founder and award-winning author L.M. Browning.
The first offering is a poetry collection entitled In the Hands of the Immortal Weaver: Poems of Sacredness and Belonging. In this her first spiritual collection since 2012, Browning returns to the spiritual conversation with this short unassuming collection, proving that powerful things come in small packages. Harkening to the mystic poets, Browning once again leaves the structure of religion behind to set out into the wild in search of the divine. Weaving together imagery and insight, each poem imparts beauty but more importantly wisdom.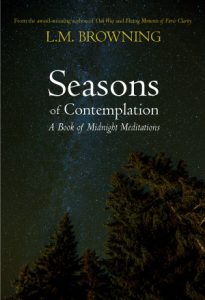 The second offering is entitled Seasons of Contemplation: A Book of Midnight Meditations. In Seasons of Contemplation, Browning offers the reader humble yet impacting meditations on the topics of religion, connection, mindfulness, ecology, the spiritual journey, and the perils of modern culture. The ruminations gathered within these pages provide simple insights that help bring sense to the chaos and hustle of our daily life.  Direct and unpretentious, Browning once again reminds us that "Becoming aware of the dearness in what might otherwise be regarded as mundane is the ultimate form of insight."
Both books will be released on April 21, 2015. Short 5 x 7 chapbooks, these smaller offerings are the first of their kind for our press. Each book is just the right size to slip into a coat pocket and read in a park and is short enough that you can find the time to enjoy it even during the busiest of days.
Both titles are available to pre-order exclusively in our bookstore or you can buy them as a set for just $15.00!
L.M. Browning grew up in a small fishing village in Connecticut. A longtime student of religion, nature, and philosophy these themes permeate her work. She is the author of a three-title contemplative poetry series Oak Wise, Ruminations at Twilight and The Barren Plain. These books went on to garner several accolades including a total of 3 pushcart-prize nominations and the Nautilus Gold Medal for Poetry. Balancing her passion for writing with her love of education and publishing, Browning is a graduate of the University of London and a Fellow with the League of Conservationist Writers. She is partner at Hiraeth Press, Co-Founder of Written River: A Journal of Eco-Poetics, and Founder of our press' journal The Wayfarer. She is currently working to complete her next degree at Harvard University's Extension School in Cambridge, Massachusetts.