Fleeting Moments marks my first poetic release in 2 years. A mix of travel writing and meditations this collection includes poems and journal entries penned during my wanderings throughout New England and time spent along the shores of my home in Connecticut. Featuring a foreword by Ian Marshall, author of Walden by Haiku and Border Crossings and including previously unpublished fan favorites such as: Across the Distance, Fleeting Moments of Fierce Clarity, The Lament of the Wayfarer and During the Long Day, Over the Sacred Night, this little book packs quite a blow.
$14.95 (pbk) | Now Available!
Visit Homebound Publications' Bookstore >>
Also Available on Amazon.com, Kindle and Barnes  & Noble
 About the Book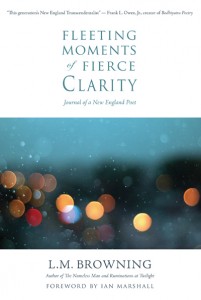 Fleeting moments of fierce clarity are had when the confusion clears and the gray numbness that hangs about our senses draws back, allowing us to see the world and ourselves with sharp relief.
Follow author and New England native L.M. Browning in her wanderings across the Northeast, from the solitude of her home along the shore of Connecticut, to the rushing city streets of Boston, to the tall-pine landscape of Arcadia Park in Rhode Island to the quiet edges of Walden Pond.
Advanced Reviews
"This generation's New England  Transcendentalist."
— Frank Owen, creator of Bodhiyatra Poetry
"Thoreau, that great New England saunterer who serves as one of the inspirations for L. M. Browning's new book, advised never to underestimate the value of a fact, for it one day might flower into a truth. Facts flowering into truths are what one finds on every page herein. Browning's gift is to see the miraculous in the commonplace, and readers will leave her poems and journal entries the wiser and more human. This is no small gift."
— Philip F. Gura, author of American Transcendentalism: A History
"L.M.Browning's rich little book invites the reader to face our common "fear [of] the silence" and take a courageous breath. Her Fleeting Moments may not always bring a contented clarity, yet presents an open journal of a journey within, to fiercely face that silence, and dare to walk beyond it into deeper woods where we can embrace some kind of natural sacredness. This is a celebration through suffering, a seeking beyond the search, and a pathway into a welcome unknown. At times the prose itself becomes poetry, and there are delightful glimmers of the New England life many of us only dream of. One imagines Emerson and Fuller including gifts from this book in The Dial."
—Chris Highland, author of Meditations of Henry David Thoreau and My Address is a River
"As a New England native, L.M. Browning and I share an environmental relationship. She speaks to the seeker in me, the young boy scouring the woodlands for the answers I already have, for the validation of simply "being". Courageous, she reveals a well-worn path of redirection and self-evaluation leading us toward a resonant verbiage that dissipates just as profoundly as it arrives. Inside us lies the cure and the curiosity, and Browning empowers us to recover our own composition and reconstitute it boldly into our realities. Between her own emboldened poetic lines beats the heart-mind of an awakened seeker, re-awakening daily as invitation to share this Journey together, one page at a time. Fleeting Moments will only inspire."
— Keith M. Cowley, author of Presence and Environmental Connection
Audio Previews
About the Author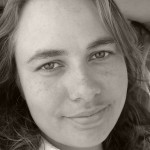 L.M. (Leslie M.) Browning grew up in a small fishing village in Connecticut. A longtime student of religion, nature and philosophy these themes permeate her work. Browning is a award-winning author and wildlife artist. In 2010 she wrote a Pushcart Prize nominated contemplative poetry series: Oak Wise, Ruminations at Twilight, and The Barren Plain. In late 2011 she celebrated the release of her first full-length novel: The Nameless Man. Browning is a graduate of the University of London and a Fellow with the League of Conservationist Writers. She is partner at Hiraeth Press—an independent publisher of ecological titles. She is Co-Founder and Associate Editor of, Written River: A Journal of Eco-Poetics as well as Founder and Executive Editor of The Wayfarer: A Journal of Contemplative Literature. In 2011 Browning opened Homebound Publications—an independent publisher of contemplative literature based in New England. Her latest title, Fleeting Moments of Fierce Clarity: Journal of a New England Poet,  is a journal of her daily contemplative life along the shores of Connecticut and her travels throughout the Northeast.