The second edition of the Pushcart Prize nominated collection, Ruminations at Twilight: Poetry Exploring the Sacred is now available! This new edition has been updated and revised and features a new foreword by J.K.McDowell, author of Night, Mystery & Light. 
$14.95 | Now Available
Visit Homebound Publication' Bookstore >>
Also Available on Amazon.com and Barnes & Noble
About the Book
"The cure for our modern maladies is dirt under the fingernails and the feel of thick grass between the toes. The cure for our listlessness is to be out within the invigorating wind. The cure for our uselessness is to take back up our stewardship; for it is not that there has been no work to be done, we simply have not been attending to it."
–Excerpt from Ruminations at Twilight
 Asserting that the sacred lives in what is ordinary and the Divine is found amongst the green of nature, the poems within Ruminations at Twilight bring a message of appreciation for the worth of what surrounds us. Relevant, insightful, candid and revealing, these verses give a unique perspective on the age-old questions. The story told takes place on an intimate scale yet at the same time a world-wide scale; for within this story of one individual's realization and redemption we are told that of all humanity's.
Praise for Ruminations at Twilight
"L.M. Browning's powerful poetry embodies the archetypal spiritual journey of our times, from "confining doctrine," through despair and doubt, into reverent reconnection with the mysteries of the blossoming world. Her impassioned words evoke our longing to unite with the Source that gave rise to the cosmos, the earth, and the depths of our hearts. This book is like holding the twilight in your hands: a luminous joining of the divine and the natural into a moment of sacred wonder!"
—Drew Dellinger, author of Love Letter to the Milky Way
"Ruminations at Twilight is a powerful cry of yearning for the sacred. These lines of poetry are Browning's fearless entry into the global conversation; a heartfelt plea on behalf of the sacred Earth whose words run like rivers into the Great Watershed of the Earth's dreaming. May her poetry inspire your own plunge into the currents."
— Jason Kirkey, author of The Salmon in the Spring (*Winner of the 2010 IPPY Book Award's Silver Medal)
"A few months back I had L.M. Browning's Oak Wise to review, and I appreciated that collection. This volume quite simply blew me away. It follows the same themes of relationship with nature, and speaking to spirit, and there are moments that feel like prayer. The writing is beautiful, but in Ruminations, Browning has gained a sense of purpose and direction absent in the earlier work. There's recognition of where the wrongs lie, and how to challenge them. I found the poetry affecting and inspiring, underpinned with a strong philosophy. This is not just a poetry book, it is a call to action, to self awareness and engagement with spirit."
—Bryn Colvin [Reviewer TDN]
"L.M. Browning's religious fervor reminds one of Emily Dickinson's in its intensity and unorthodoxy: it bypasses dogma to reach the heart of the divine."
—Rennie McQuilkin, Author of The Weathering
"Ruminations at Twilight is not your average book of poetry, and L.M. Browning is not your average poet. Reading this book is like tugging on the loose string-end of the great ball of twine that is our human condition. One must be brave to take up such a journey. One must be willing to "see". Browning sees knows, and offers a much-needed vision to the rest of us. These poems guide us through the terrain of the 'common wound' and carry us into a place of healing, anticipation and realization of the prospect of being our fullest selves in a torn world that needs us to be exactly that." 
—Frank Owen, Bodhiyatra Poetry
About the Author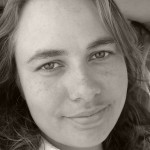 L.M. (Leslie M.) Browning grew up in a small fishing village in Connecticut. A longtime student of religion, nature and philosophy these themes permeate her work. Browning is a award-winning author and wildlife artist. In 2010 she wrote a Pushcart Prize nominated contemplative poetry series: Oak Wise, Ruminations at Twilight, and The Barren Plain. In late 2011 she celebrated the release of her first full-length novel: The Nameless Man. Browning is a graduate of the University of London and a Fellow with the League of Conservationist Writers. She is partner at Hiraeth Press—an independent publisher of ecological titles. She is Co-Founder and Associate Editor of, Written River: A Journal of Eco-Poetics as well as Founder and Executive Editor of The Wayfarer: A Journal of Contemplative Literature. In 2011 Browning opened Homebound Publications—an independent publisher of contemplative literature based in New England. Her latest title, Fleeting Moments of Fierce Clarity: Journal of a New England Poet,  is a journal of her daily contemplative life along the shores of Connecticut and her travels throughout the Northeast.