On October 28th Homebound Publications will release Fleeting Moments of Fierce Clarity: Journal of a New England Poet by L.M. Browning, author of The Nameless Man.
In this, her first poetic release since her highly praised contemplative poetry series released in 2010, Browning opens her private world to the reader, filling the pages of this book with her personal journal reflections as well as previously unpublished poems. This collection is a wonderful mix of travel writing and contemplative poetry. Some journal entries follow her on her various wanderings throughout New England and the east coast, from Arcadia Park in Rhode Island, to Flat Hammock Island, to the rushing streets of Boston and Washington D.C., to the quiet edges of Walden Pond. While still other entries speak of her quiet contemplative life along the shores of her home state of Connecticut.
The praise for Fleeting Moments of Fierce Clarity has already begun gathering.
Frank L. Owen Jr., creator of Bodhiyatra Poetry exclaims Browning is: 
"This generation's New England Transcendentalist."
Philip F. Gura, author of American Transcendentalism reflects:
"Thoreau, that great New England saunterer who serves as one of the inspirations for L. M. Browning's new book, advised never to underestimate the value of a fact, for it one day might flower into a truth. Facts flowering into truths are what one finds on every page herein. Browning's gift is to see the miraculous in the commonplace, and readers will leave her poems and journal entries the wiser and more human. This is no small gift."
Chris Highland, author of Meditations of Henry David Thoreau and My Address is a River writes:
"L.M.Browning's rich little book invites the reader to face our common "fear [of] the silence" and take a courageous breath. Her Fleeting Moments may not always bring a contented clarity, yet presents an open journal of a journey within, to fiercely face that silence, and dare to walk beyond it into deeper woods where we can embrace some kind of natural sacredness. This is a celebration through suffering, a seeking beyond the search, and a pathway into a welcome unknown. At times the prose itself becomes poetry, and there are delightful glimmers of the New England life many of us only dream of. One imagines Emerson and Fuller including gifts from this book in The Dial."
Keith M. Cowley, author of Presence and Environmental Connection offers:
"As a New England native, L.M. Browning and I share an environmental relationship. She speaks to the seeker in me, the young boy scouring the woodlands for the answers I already have, for the validation of simply "being". Courageous, she reveals a well-worn path of redirection and self-evaluation leading us toward a resonant verbiage that dissipates just as profoundly as it arrives. Inside us lies the cure and the curiosity, and Browning empowers us to recover our own composition and reconstitute it boldly into our realities. Between her own emboldened poetic lines beats the heart-mind of an awakened seeker, re-awakening daily as invitation to share this Journey together, one page at a time. Fleeting Moments will only inspire."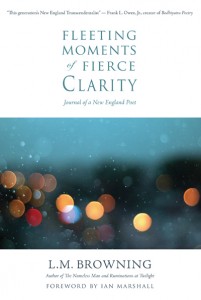 Below we have included a preview of Fleeting Moments of Fierce Clarity, which you can enjoy for free via issuu.com. Included in the preview is the book's foreword written by Ian Marshall, author of Border Crossings: Walking the Haiku Path on the International Appalachian Trail and Walden by Haiku. Right now Fleeting Moments of Fierce Clarity is available for pre-order at Barnes & Noble and right here in the Homebound Publications bookstore!
[issuu width=420 height=313 embedBackground=%23000000 printButtonEnabled=false backgroundColor=%23222222 documentId=120922032905-d96e2e10038844be900388d52619bb67 name=fleeting_moments_preview username=homebound tag=arcadia unit=px v=2]